MANAGING CHILD CARE STABILIZATION GRANTS & YOUR BUSINESS FINANCES JUST GOT EASIER...

YOU'RE JUST SECONDS AWAY FROM THE ESSENTIAL ADVICE, SUPPORT & TRAINING
YOU NEED FOR CHILD CARE STABILIZATION GRANT FUNDING AND SUCCESSFUL FINANCIAL MANAGEMENT OF YOUR CHILD CARE BUSINESS.

Child Care Stabilization Grants & Financial Consulting
"Making the Complex Simple"
Are You Facing Any of These Challenges?
If You Facing Any of These Challenges...Our Child Care Stabilization Grants & Financial Management Consulting is For You!
What is the Best Allocation?
Financial Analysis
It starts with financial analysis. We help you determine the best way you can utilize grant funds to maximize the value to your employees, parents, programs and business.
Dotting I's & Crossing T's
Application Submission
We help you get your application submitted on time, with the correct information to receive your grant funds in a timely manner.
Tracking How Funds Were Spent
Documentation
Keeping track of all expenditures and documentation is so important! We keep you organized so reporting how your used the grant funds is a snap!
Expense Allocation and Application Update
Recertification
Most states require grant application updates and recertification to receive ongoing grant funds. We help you make the necessary adjustments to your application, and funding utilization.
MONTHLY FINANCIAL ANALYSIS & REVIEW



A

  CHILDCAREOWNER.COM  MEMBERSHIP

Child Care Owner is the leading training community for child care business owners.
It's a membership about the "Business Side of Child Care"!
And it's packed with in-depth, practical training and resources on all the business aspects of planning, building, running and growing a successful child care business.
PLUS the community support you need to ensure your child care business achieves its full potential.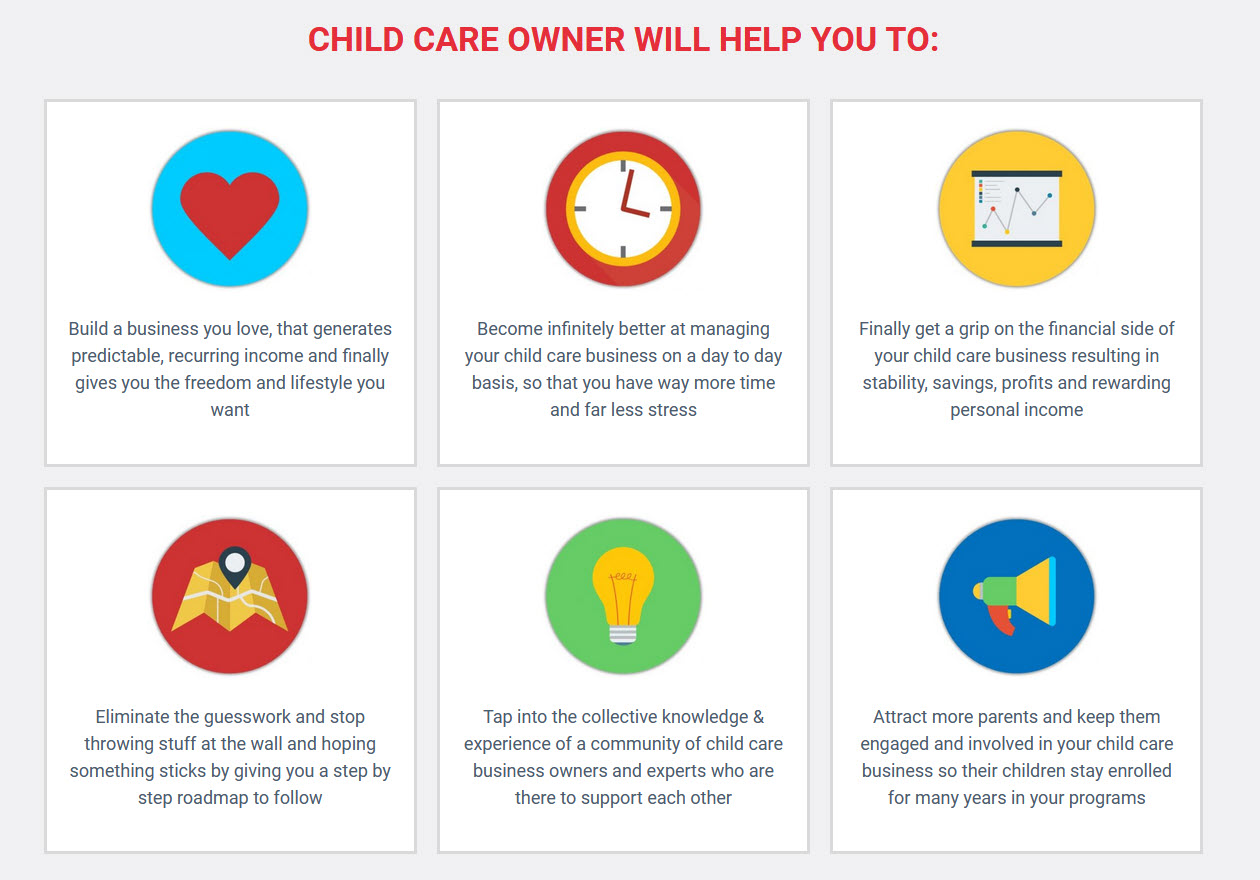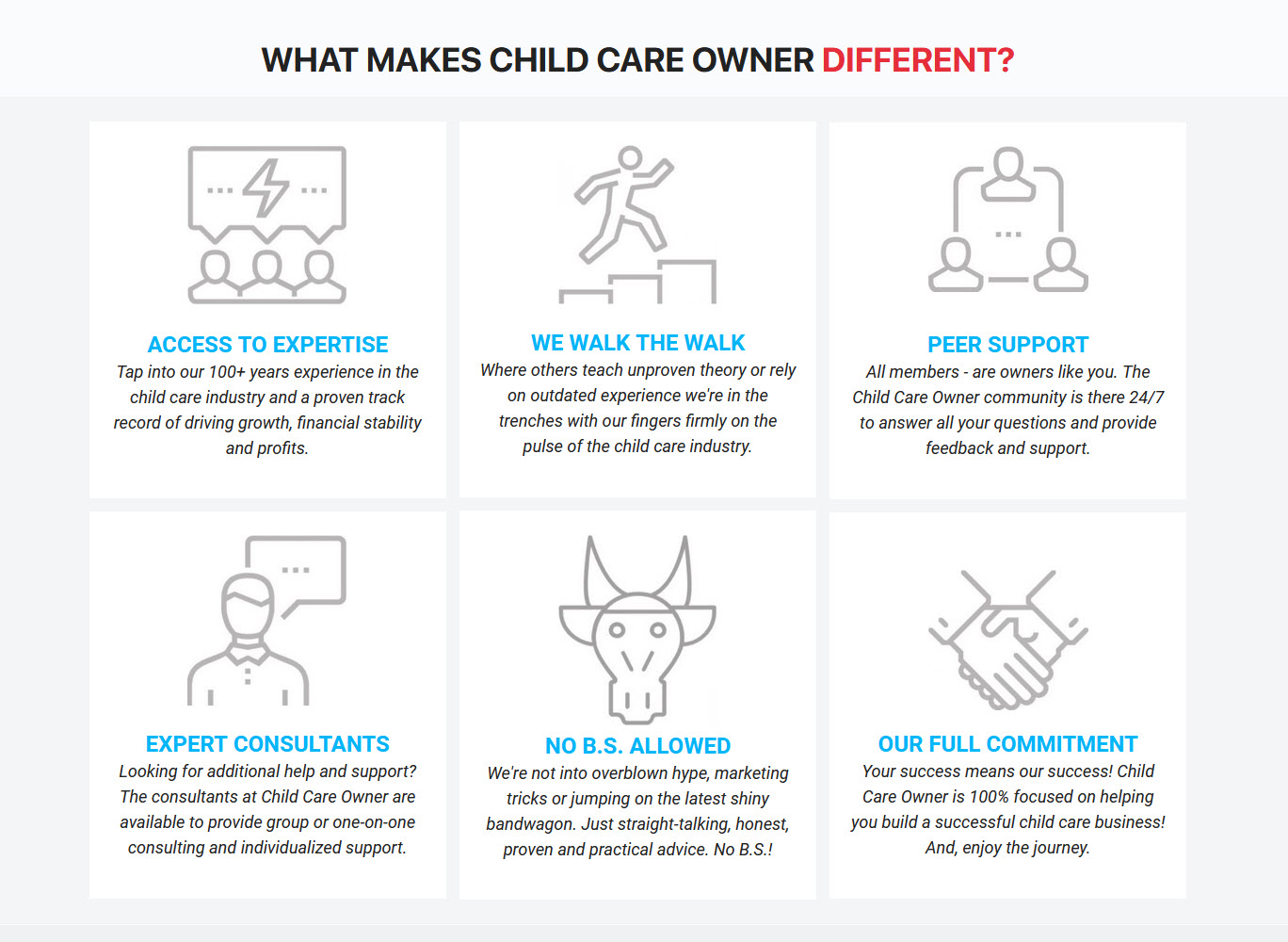 4 WAYS TO LEARN INSIDE CHILD CARE OWNER
EXPERT ROADMAPS
Our step-by-step guides taking you from where you are to...where you want to be!
Looking for proven paths for Exit Strategy Planning, Marketing and Enrollment Building, Financial Management, Mergers & Acquisitions and Increasing the Value of Your Child Care Business? Our unique membership roadmaps guide you through everything you need to do.
Simply follow the steps and you'll see the results in your child care business in no time!
IN-DEPTH COURSES
Prefer to learn on your own or need something a little more advanced? Our course library contains all the training you need on topics from cash flow management to Exit Strategy Planning.
Sample Courses:
Exit Planning
Cash Flow Management
Calculating Tuition for Profits
Business Valuation
Child Care Financing
Grow by Acquistion
Marketing
New Construction
Remodeling
LIVE Q & A'S
Interactive live Q & A sessions every month.
Need advice and feedback tailored to your specific situation? We hold a live monthly call where we answer all your questions and provide individual advice.
Plus you can get answers to questions 24/7 inside our member-only forum.
EXPERT WORKSHOPS
Deep-dive masterclasses from leading experts and influencers.
Looking for in-depth insights on specific tactics and strategies? Our expert workshops have you covered!
We've assembled a cast of seasoned experts with specialized knowledge and a history of working with child care business owners.
The childcareowner.com in-house experts include CPA's, mergers & acquisition attorneys, child care and school architects, insurance specialist, personal financial planners, child care business brokers, SBA lenders, child care marketing experts, child care business valuation analysts, exit strategy planning professionals, and much, much more!
ALL CHILD CARE OWNER MEMBERS GET ACCESS TO
...All of this and much more ONLY inside Child Care Owner
REAL PEOPLE, REAL SOLUTIONS, REAL SUCCESS
Child Care Stabilization Grants & Financial Managment Consulting
Setup Fee $997 (Normally $1997 - Save $1,000)
Monthly - One-on-One Personal Consulting (Virtual Meeting)

Monthly - Review of Grant Spending - and Documentation

Stabilization Grant Application Assistance & Application Adjustments

Allocations - How should you use the funds? Financial What-If Scenarios

Stabilization Grant Review & Recertification Planning

Custom Child Care Financial Management System

Monthly - Written Financial Report with Performance Review & Planning

Access to ChildCareOwner.com - An Exclusive Membership for Child Care Business Owners

Access to Industry Experts, Training, Discussion Forums, Support, Networking and So Much More...

No Long-Term Comittment - No Contracts - Cancel Anytime
Special Limited Time Offer
30 Day No Questions Asked Money Back Guarantee
When you join Child Care Owner you are fully protected by our 100% Satisfaction Guarantee. If you do not feel like you've received value and you decide you want to cancel any time within the first 30 days, just let us know and we'll send you a prompt refund. No hassles, headaches or hoops to jump through.
We're confident that you'll find a membership useful, and we won't make you beg or invoke any silly rules or conditions – if you're not satisfied within your first 30 days then we'll refund you without any fuss.