Your Child Care Business' Online Reputation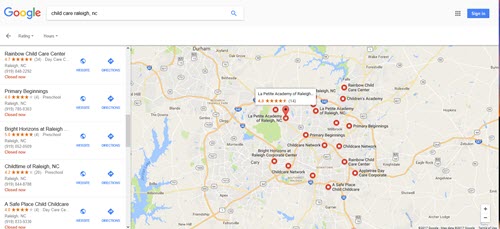 When speaking with child care business owners about marketing, owners often indicate that they do limited marketing and most of their enrollment comes from "word-of-mouth" – happy parents telling other parents about their positive experience with the child care business.
No doubt, having folks say positive things about your child care business and services is very important. However, "word-of-mouth" referrals take place online "on the Internet" just as when people interacted in person.
Since 2010, Brightlocal has conducted the Local Consumer Review Survey. Their survey results show a major change in how consumers search for local businesses and the impact online reviews had on consumers' decision and chose of which local businesses to purchase products and services.
Notable findings from the 2016 Local Consumer Review Survey and Key Takeaways for Child Care Business Owners:
84% of people trust online reviews as much as a personal recommendation.
Key Takeaway for child care owners: It is important to foster positive reviews and recommendations online just as word-of-mouth. Search for your c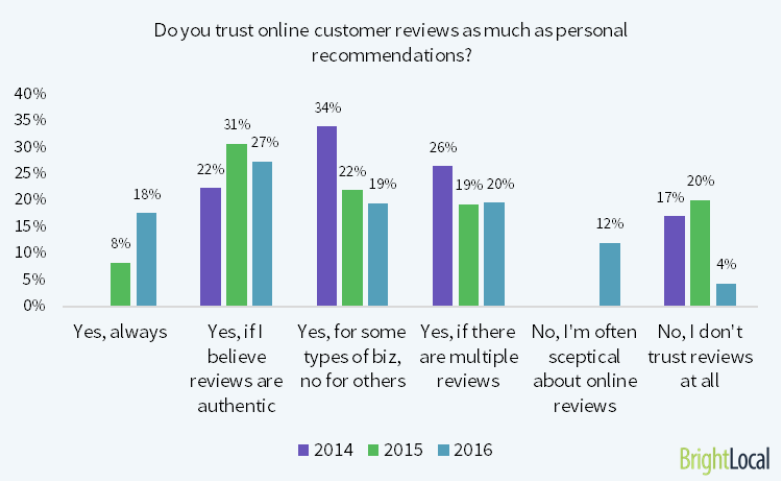 hild care business using Google, Bing and other major search engines. Has anyone reviewed our business? Is the review good, bad or average? (In future, article, we will cover how to respond to online reviews.) What can you learn from the reviews? Can you use the review to improve some aspect of your child care services?
7 out of 10 consumers will leave a review if asked.
Key Takeaway for child care owners: Asked some of your parents to post a review of their experience with your child care services. Since consumers find recent reviews as most relevant, you should routinely ask other parents to post a review. Parents want to see new reviews as they are a better reflection of the business today.
90% of consumer determine whether or not they can trust a business after reading just ten reviews.
Key Takeaway for child care owners: Make it a goal always to have at least six to ten recent reviews online (Facebook, Google Reviews, Yelp or other popular online review sites.)
54% of people will visit the business' website after reading positive reviews.
Key Takeaway for child care owners: Consumers expect local businesses to have a quality website with good content. Look at your child care business website from potential parents' perspective. Is your website responsive – looks good on the computer, tablet or mobile phone? Is your website well organized with current information about your child care services?
73% of consumers thnk that reviews older than three months are no longer relevant.
Key Takeaway for child care owners: The survey also found that the amount of research is dependent on value vs. risk and the importance of the purchase. Unlike searching for a new restaurant to try, parents only search for child care when they have a new baby or desire to change child care providers. Given the importance of the decision, parents are more likely to read more reviews, including older reviews and do more research about potential child care providers. Key point – you can never have too many good reviews on as many online sites as possible.
74% of consumer say positive reviews make them trust a local business more; and, 60% say that negative reviews make them not want to use a business.
Key Takeaway for child care owners: Since reviews have such an impact on consumer attitudes, child care owners should focus on growing their positive reviews and be proactive in managing any negative reviews they receive.
58% of consumers say that the star rating of a business is most important.
Key Takeaway for child care owners: Star ratings are very visible and easy for consumers to understand and use as a quick way to compare similar businesses. In addition, customers find the sentiment and recency of reviews also important.
The percentage of consumers posting online reviews and the number of online review sites is increasing each year. It is important that child care owners monitor their online business reputation, and actively seek to increase the quality of reviews of their business and child care services. Bad reviews are bad for business. If you need assistance with bad reviews and your child care business' online reputation, give us a call, we are happy to help you improve your child care enrollment through positive reviews 336-645-9007.
Click to review the complete survey – BrightLocal Consumer Review Survey
Your Child Care Business' Online Reputation first appeared on Child Care Owner
www.childcareowner.com
Save
Save