Child Care Internet Marketing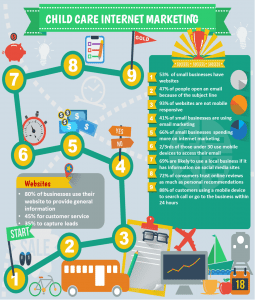 Most folks do not get excited about reviewing statistics. However, child care owners can gain available insight from recently published small business internet marketing statistics. Let's take a look at each of the stats represented in the infographics to the right and how you as a child care owner can use this information to your advantage.
53% of small businesses have a website. Similar surveys indicate that this percentage is also reflective of the child care industry. Is your child care business in the 53% with a website or the 47% without a website? The internet has become the place where parents begin their search for child care. A professional, content-rich child care website is one of the best marketing investments you can make.

80% use their website to provide customers with general information
45% for providing customer service; and
35% to capture leads
A well-designed child care website can accomplish all of these goals – answer parent's questions and provide general information about your child care services. By incorporating a listing of upcoming event details, daily menus and other information, your child care website can fill the important role of providing customer service and free your time and your staff's time from answering the same questions several times each day. And, of course, every child care website should be designed in a manner that prompts parents to take action – signup for your newsletter, call to ask specific questions, schedule a tour or complete your Contact Us form. In fact, a child care website can be an excellent source of ongoing parent leads.
93% of websites are not mobile responsive. This may not seem like a big deal. However, two other statistics – two-thirds of those under the age of 30 use their mobile device to check email and browse the web, and 88% of customers using a mobile device to search call or go to the business within 24 hours. Your child care website must be mobile responsive or you are missing out on a large portion of the value derived from having a child care website that can be viewed on all devices – computers, tablets, and smartphones.
41% of small businesses are using email marketing. Child care email marketing would include eNewsletters, email autoresponders and general follow up emails designed to inform, develop and maintain a relationship with your child care parents and potential parent customers. Many people think of SPAM when they hear the words "email marketing". But, as other statistics reveal, 47% of people say they open an email based on the subject line. A professional child care newsletter and email marketing campaign with the name of the child care business in the subject line increases the likelihood of the email being opened and read. Email marketing offers child care owners one of the most cost-effective marketing methods. In addition to providing a good rate of return, child care email marketing also provides for targeted and measurable marketing.
66% of small business owners plan to spend more money on internet marketing. If you, as a child care owner, are not in this 66% you may be wasting your child care marketing dollars on ineffective marketing alternatives. The largest portion of your child care marketing dollars should be invested in ongoing, multifaceted, strategic internet marketing campaigns.
69% of consumers say that they are likely to use a local business if it has information on social media sites. So, in addition to a professional child care website, you should also be utilizing social media marketing to promote your child care services. At Child Care Owner, we like to say, "You need to be marketing your child care business where people are looking!" The majority of parents with children in child care today are between the ages of 25 and 40. These are the same age groups that use social media the most. A strategic social media marketing campaign can provide ongoing leads and referrals for your child care services.
Speaking of referrals, when asked, many child care owners say they receive most of their business from referrals. No doubt, personal referrals, and testimonials a very important to the long-term success of a child care business. But, a little-known fact is, the referral does not necessarily need to be in-person to be effective. 72% of consumers indicate they trust online reviews as much as personal recommendations. Your child care website, eNewsletter, social media, and other internet marketing options are all excellent places to include parent testimonials about your child care services.
Statistics can be viewed as boring or as valuable information to help you increase the effectiveness of your child care marketing and internet marketing strategy. At Child Care Owner, we know that all of this child care marketing stuff can be a bit confusing but we are experts in child care marketing and here to help – just give us a call – 336-645-9094. As we like to say, "No worries friend, Child Care Owner has gotcha covered!"
Copyright – Child Care Owner
Sources:
E-Marketer, Barlow Researchers, U.S. Census Bureau, Jupiter Research
BIA Kelsey, 2012
Google Mobile Movement Study, 2011
Chadwick Martin Bailey, 2012
comScore Networks and TMP Directional Marketing, 2011
Search Engine Land, 2012