Creating an Effective Child Care Marketing Campaign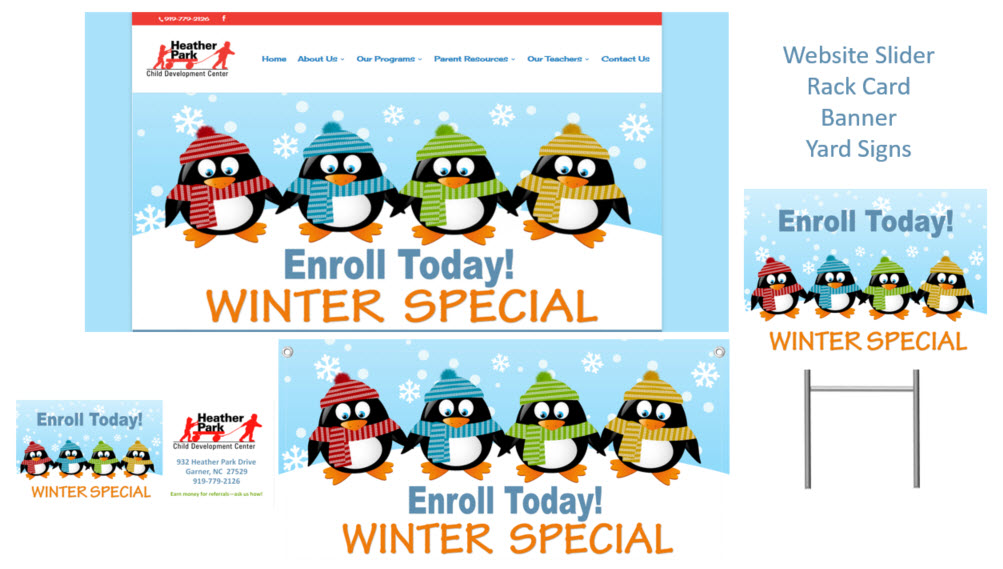 The ongoing successful marketing of child care services often revolves around creating effective child care marketing campaigns. So what exactly is a marketing campaign? Marketing campaigns (also referred to as advertising campaigns) is a group of ads with a common message delivered through multiple channels over a particular time frame to get the message across.
The ingredients of an effective child care marketing campaign would include as many of the following as possible:
The campaign and message must capture a parent's attention and be memorable.
The message must deliver a message that parents will find relevant or valuable.
The campaign must stand-out from the marketing and advertising of other child care services.
Include humor and make a parent laugh or smile (helps increase the memory of marketing message).
Be delivered consistently across multiple channels (website, print marketing, signage, social media, and in personal conversations).
Putting all these things into action may sound complicated, but it does not have to be. For instance, we recently help a child care client with an effective winter enrollment marketing campaign. The goal, of course, was to increase enrollment by delivering a consistent message about their winter enrollment special.
The same message was delivered using the same images and text across the following marketing channels:
Child Care Website – Using fun, eye-catching images of penguins in winter hats and scarfs, we created a special homepage slider announcing the Winter Special.
Signage – A large banner with the same imagery and message was displayed outside the center with matching yard signs placed at the entrance and exit to the center.
Print Marketing – We created a rack card with the same imagery and text to give to current parents, and placed in local businesses for customers to pick up.
Personal Contact – the center owner, director, and teachers "talked-up" the Winter Registration Special which included a discount for new enrollments and a referral fee to parents for spreading the word.
The child care marketing campaign has successfully met all five of the guidelines listed above, easy to create, not expensive, and yielded a great return on investments – new enrollments that will attend the center for months and years to come.
If you are interested in creating an effective child care marketing campaign, give Child Care Owner a call – we are always happy to help 336-645-9094.
Save
Save