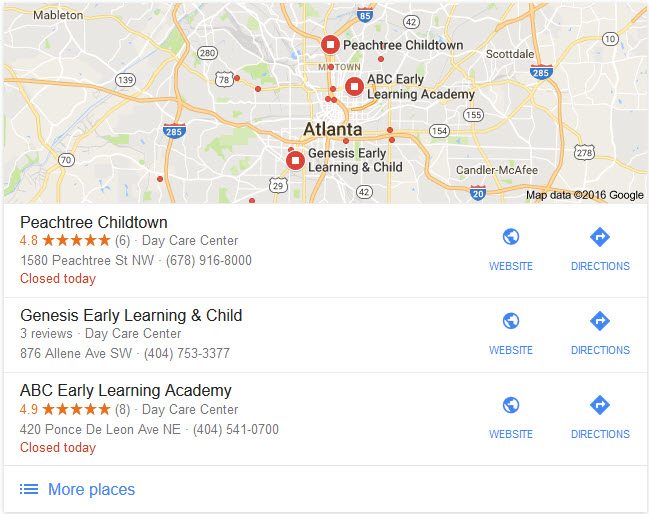 Almost 90% of people use Google when searching the internet for products and services.  When parents looking for child care search online, does your child care business link appear on the first page of the search results?  If you answered, yes – great.  If you answer no or I do not know, keep reading.
There are several ways to have your child care website link appear on the first page of search results – keyword and phrase pay-per-click, search content optimization, and other methods.  Most methods cost money an often overlooked and free method is listing your business with Google My Business.
Google My Business is the map that is often displayed close to the top of the first page of search results.  Three or more businesses with name, address, telephone number, hours and a link to the business website and another for directions.  Also, the map will include a red icon indicating the location of each business.  Given the prominent position on the page, and the fact that it provides the information most people are searching for businesses listed here receive lots of clicks and website visits.
Yes, Google My Business is free.  Submitting your business information and verifying location and ownership is all that is required.  Just "Google" – Google My Business and follow the instructions for listing your business.  Or, call Child Care Owner 800-276-0429 and we will setup up Google My Business for you at no charge – FREE!
Child Care Owner – "Your Child Care Marketing Department".  Child Care Owner specializes in marketing for the Child Care Industry – Child Care Websites, Child Care internet Marketing, Social Media Marketing, and promoting your child care services with print marketing materials.
Copyright ChildCare Owner
Save
Save
Save